Welcome to Essence Pilates & Bodyworks - South Perth!
At Essence Pilates South Perth we offer challenging, low impact, total body pilates classes suitable for people of all ages and levels of physical ability. Make imbalances, aches and pains a thing of the past - regain control, power and flexibility as you strengthen your core, improve your posture and overall wellbeing with Essence Pilates.
Our contemporary pilates studio is conveniently located in South Perth. Join us and share your fitness goals with our experienced and professional pilates instructors so we can help you achieve your fitness and wellbeing goals.
We also offer a range of non invasive, pain-free cosmetic laser and ultrasound treatments that include: Painless SHR IPL Laser Hair Reduction, Painless Body Shaping / Ultrasound Fat Reduction, Non-invasive Ultrasound Face-lifts and IPL Skin Rejuvenation Treatments. At Essence Bodyworks, we pride ourselves in bringing our clients the very latest in bodywork technology in a warm, relaxed studio atmosphere.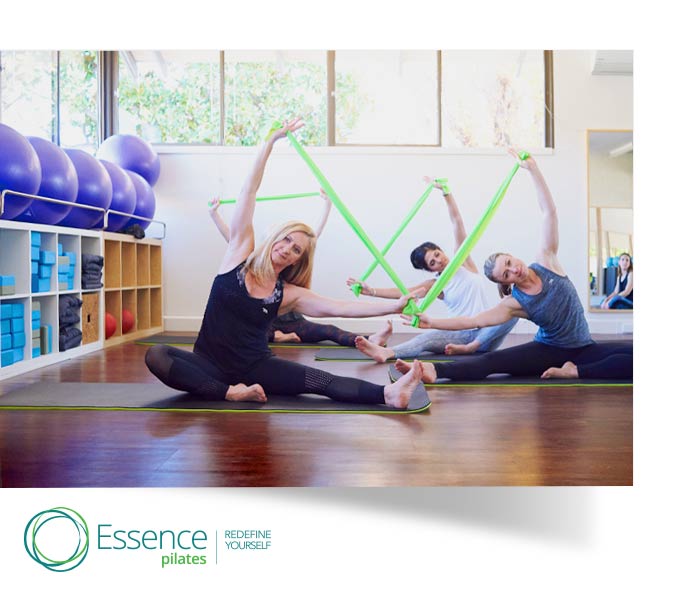 Experience the challenge of pilates at Essence today by taking advantage of our $99 introductory offer for new members. In addition to your first introductory class, you also get 5 multi-use sessions which is perfect for new members to try out all the different pilates classes on offer. Once you have found the pilates workout that is just right for you, all you have to do is browse upcoming weekly class schedules/timetable and book your preferred class sessions via your personal online account with Essence. Its that easy!
VIEW PILATES SCHEDULES / ONLINE BOOKINGS
Call us on 08 9368 1496 if you have any questions and to discuss your treatment requirements.
CONTACT US
REDEFINE Yourselfbe the best possible version of yourself!
Looking and feeling your best shouldn't be a luxury or a "sometimes" thing! It's our mission at Essence to help you look and feel your best! New to South Perth, Essence Pilates & Bodyworks is a dynamic health, wellbeing and beauty studio helping clients achieve their individual goals so they look and feel their best!